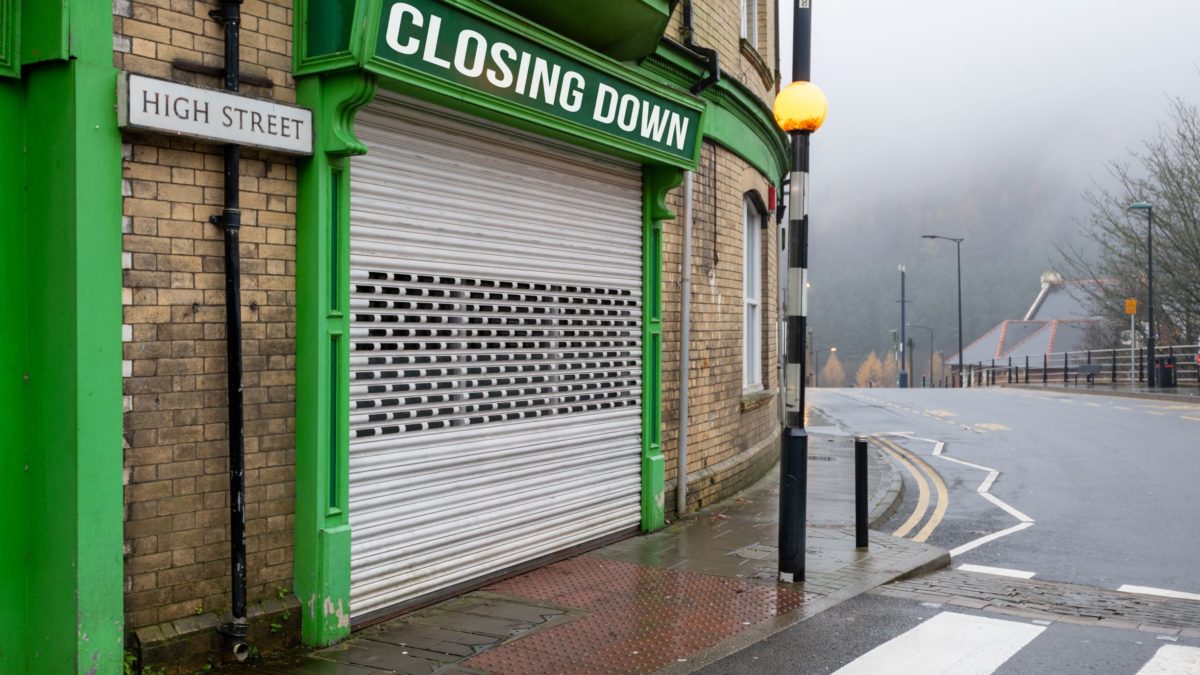 It is crunch time for British high streets. Even before Coronavirus, high street footfall was down. In the past seven years, research shows that the number of shoppers heading to UK high streets, retail parks and shopping centres has fallen by 10%.
And the sector is the first hit when something goes wrong. When Storms Ciara and Dennis kept people at home last month, retail footfall dropped 7.8%. And retail will not be immune to Coronavirus, from panic buying to disrupted global supply chains and reduced footfall, retailers are likely to face numerous challenges.
The rising costs of running physical stores, including rent, wages and business rates puts additional pressure on retailers – and on many high streets, the strain is showing. The number of shops, pubs and restaurants lying empty is rising at the fastest pace in a decade.
This doesn't just impact retailers – high streets are the beating heart of communities. They're a place for people to come together, access goods, services and leisure, participate in local culture and find employment. So far this year 1,211 shops have been shut and 18,000 retail jobs lost, according to the Centre for Retail Research – and the impacts of this are concentrated in the towns least able to recover.
It's because they are central to lives of communities up and down the UK, that it is our town centres and high streets which are often the barometer of how confident people feel about the future. When the shutters are down and the windows boarded up it has a material effect on the wellbeing of a place and its people.
The Co-op Group has developed a useful tool to measure community wellbeing, measuring factors from the quality of education, housing and public transport, to the availability of green space and number of community centres in the area and cross referencing these with other economic, social and health measures across 28,000 communities across the UK.
And what this data shows is that those communities with the lowest wellbeing scores are the places experiencing the greatest contraction of the retail sector. This means the most vulnerable communities are having to cope with significant retail job loss, boarded up shops, further to travel for basic services and shopping, and a loss of the cultural hearts of their towns.
This budget could provide the antidote that our town centres, and these communities, need. Steve Murrells this week called for business rate reform to save small towns – and I want to see today's budget reflect this. Our current business rates regime has undermined the future of our high streets as well as important community anchors such as pubs, banks and Post Offices.
But we must recognise that to save our high streets we cannot be so narrow we miss how a place actually functions. It is important to give a boost to our amazing small businesses, but we cannot ignore multi-location retailers such as travel agents, chemists and convenience stores. Nor must we think that big means unbreakable, if the decline of BHS, or the struggling House of Fraser and Beales has taught us is that they are hugely vulnerable to the rise of online mega-sheds and we must recognise the value of anchor stores to drive footfall.
Compare then that John Lewis, one of Britain's best loved co-operatives pay £165 a square metre in Manchester's nearby Trafford Centre, compared to Amazon at Manchester Airport paying just £44, its hardly a level playing field and that's before you get on to corporation tax!
If this budget genuinely seeks to level up, this much change. We should be ambitious for our towns and high streets, and this must include a fundamental review across all business taxation which both tackles poor corporate behaviour of big multinationals as well as levelling the playing field for bricks-and-mortar stores which provide so much more social value to high streets than many of the online retailers do.