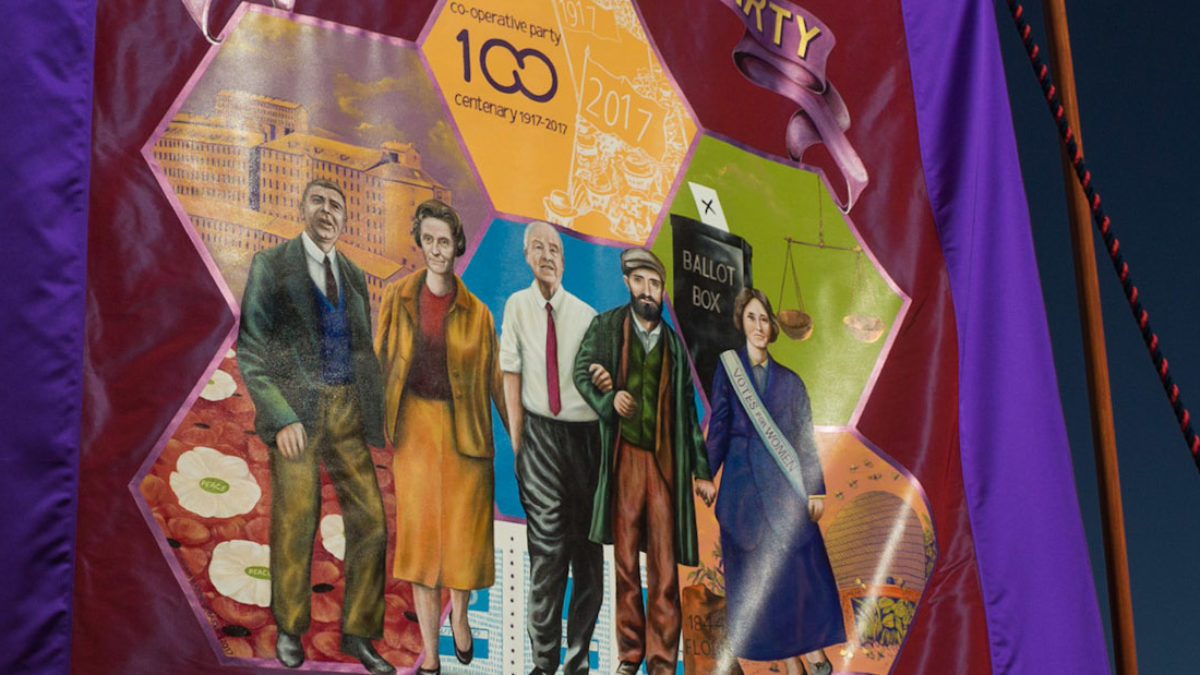 Lord Ted Graham of Edmonton died this morning. Joe Fortune shares a memory and asks for yours.
Ted lived his life within the Co-operative Movement. He was a former General Secretary of the Co-op Party, a Labour and Co-op MP, and a Labour and Co-op Peer – more than that, Ted is a legend in the Co-operative movement.
When the Co-operative Party designed and commissioned a centenary marching banner, from the Durham Banner Makers in Ted's native North East, it was obvious that Ted needed to be front and centre on it. On the image which accompanies this post you will be able to see Ted on this banner with the white shirt and tie. This banner will last for many, many years, as will Ted's legacy, and I hope we will be marching this banner at the Durham Gala, with Ted on it for many years to come.
In the coming days, we in the Co-operative Party will want to publish full and proper tributes to Ted. Given the life Ted lived and the career he had, many co-operators will have their own cherished memories and stories they have stored up over more years than mine. However, an early one for me was when I first started at the Co-operative Party, the then General Secretary sent me to meet with Ted to get an understanding of what I really needed to do. The General Secretary, Michael Stephenson, told me I had to wear a co-op tie to the meeting otherwise Ted may feel I was not on brand enough – he gave me the tie, to be honest I didn't put it on and it is still in the office on my desk to this day, but when I got to the meeting Ted was wearing his – I felt I probably should have listened to Michael.
He was much more than a stalwart of our Parliamentary Group and our tributes over the coming days will attest to that. I know him to have been a very kind man who was always there for General Secretaries of the Co-operative Party, through thick and thin. He wrote the most supportive of letters and was always there egging us on to achieve more for the Party and the movement.
If you would like to share your stories and memories of Ted within the Co-operative and Labour Movements send them in to mail@party.coop and we will publish under this post.
RIP Ted.