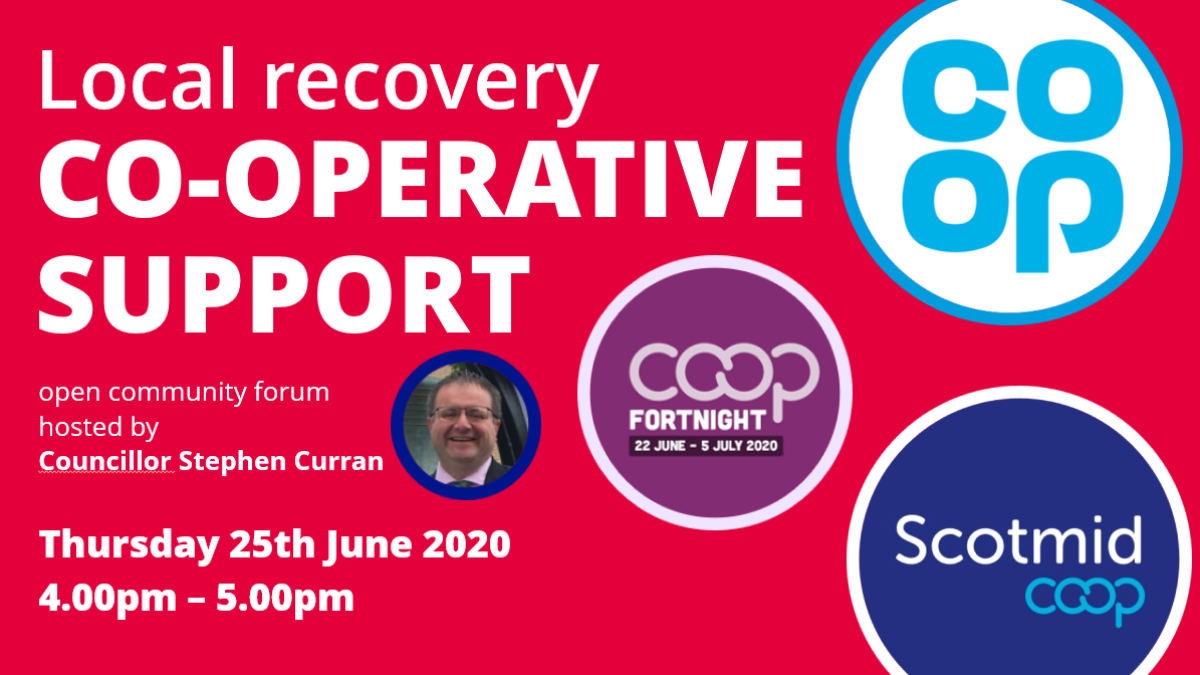 Co-operative Societies active in Glasgow joined forces this week to encourage support and funding worth thousands of pounds for local groups across the city.
An open online forum for charities and community organisations took place on Thursday 25 June 2020.
As a Scottish Labour and Co-operative Party Councillor I was proud to host the "Local recovery: Co-operative support" event.
I'm delighted that both Scotmid and the Co-op Group joined us, sharing news of co-operative support and funding for local charities and community groups in our city and beyond.
This is taking place during Co-operatives Fortnight, organised by the Co-operatives UK network from 22 June to 5 July this year, celebrating the work of these member-owned and community-focused businesses. This is part of the success we will hear locally this week in our online event.
The meeting was open to anyone interested in finding out more about the co-operative support and funding offered by Scotmid and the Co-op. I look forward to seeing volunteers from local groups and sport clubs, charities and churches, benefiting from the information they received at the meeting.
There are Scotmid and Co-op stores all over Glasgow and the staff are proven keyworkers, making a huge contribution to helping us all through the challenging times we have faced due to coronavirus restrictions.
It's great to see both co-operative businesses linking with those voluntary groups and local charities also making an impact in all our communities, supporting those most in need.
Many Co-op and Scotmid stores have already been linking with foodbanks and other local projects to support those struggling to make ends meet, while helping to reduce each shop's own food waste.
Local groups and co-operatives will continue to provide keyworkers and vital support through the next phase of recovery from Covid-19. This Co-operatives Fortnight the message is 'let's build something better together' which so many of us want to see through a just and green recovery in the months and years ahead. This event helps co-op businesses and local groups connect and make even more of a difference in communities across Glasgow.
This was a good event showing the importance of concern for the community and of co-operation amongst co-operatives.
For Co-operatives Fortnight I am hosting another call on Wednesday this time of Credit Unions, Money Advice and Support click on the link to register.