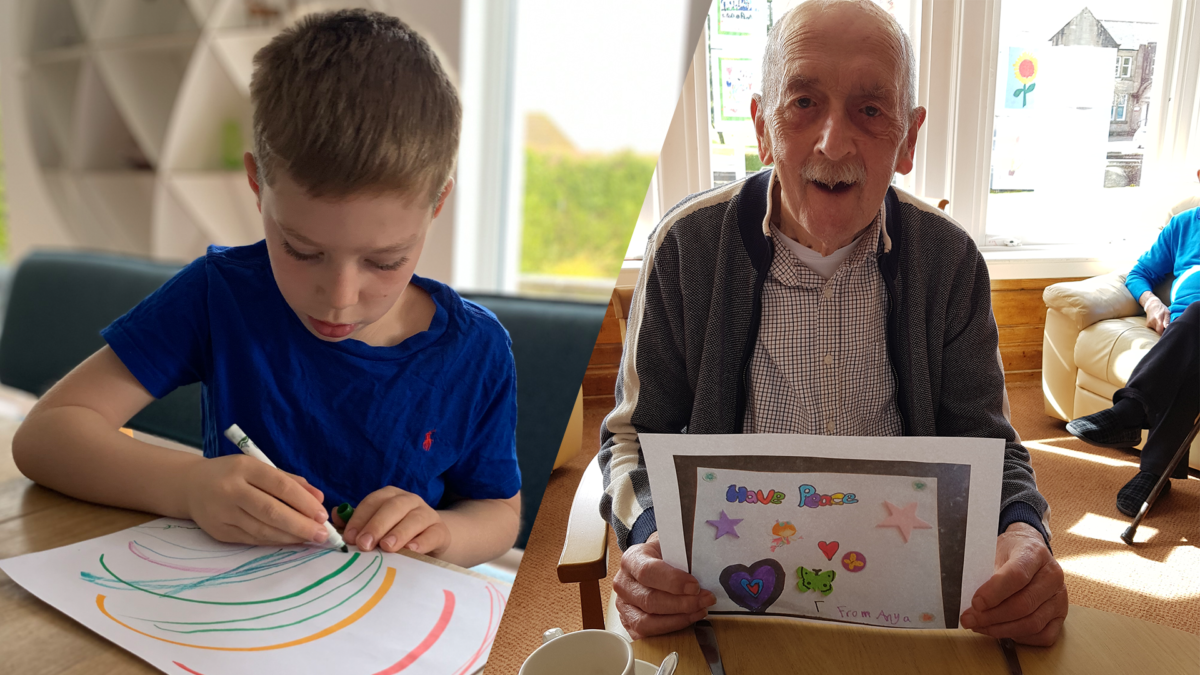 'Lockdown' was an emotive word for us all to hear, conjuring images of isolation and restrictions.  For many in residential care settings, it simply heard 'lonely'; an equally frightening thought.  No visitors, no contact with the outside world.
As a Communities Manager for Scotmid Co-operative I am privileged to see and support the incredible work that is carried out by charities and community groups across the country to help those who need it most. But when I think of the difference these groups make, the images all involve personal interaction. The challenge for me was to think of a way to create a human connection without a physical presence.
Letters and drawings were the simple answer. Sharing Smiles was created.
The first step was to reach out to care providers to find out if they would be interested in receiving 'smiles'. The response was overwhelming, with over 50 residences immediately responding positively.
Children were the obvious contributors; a task that would keep them busy, express their feelings around their 'new normal' and be meaningful to others. So a plea was issued by social media, asking them to send drawings and letters.
The whole process completed by email to ensure no contamination risk along the way. Collated drawings and letters are emailed to care providers to print and distribute to residents.
The press response was incredible, with many national online sites sharing the story. It was also picked up by the regional press across all of the UK. News reached a British family living in Israel, their daughter Miriam (10) is a regular contributor.
The letters and drawings quickly began arriving, with whole classes contributing. We also began receiving artwork, letters and poetry from adults. Each contributor received a personal response thanking them and praising their work. Many have regularly shared artwork and letters.
Christine Thomas, service manager at Capability Scotland, said: "We are a large charity that supports people with disabilities to live their best life ever.
"Life for our customers changed dramatically, as they were advised to go into isolation to ensure they stay safe and healthy.
"Contact with the outside world is precious, so it was hugely uplifting to read an email entitled 'stay connected'; what a wonderfully touching idea this is.
"One of our social media hashtags is #creatingsmiles and being part of this project most definitely achieved that."
Residences have been so creative in their delivery; with some delivering the creations as scrolls tied with ribbon to make the recipient feel even more special. Since launch, thousands of residents have received letters and drawings.
As is often the case, the simplest idea has had an enormous impact. I am so pleased by the response and the feedback from both contributors and recipients has been truly heart-warming at a time when smiling and connecting has never been more important.
Lynne Ogg is Scotmid's Membership and Communities Manager for North Scotland.